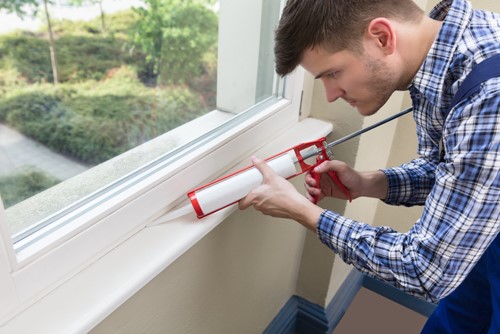 Image by Andrey Popov from Shutterstock
Window sealants are sealing materials used to fill in cracks, holes, or openings around windows. A good seal is essential for protecting your windows' lifespan. Gaps around a window let in the elements and end up increasing your energy bill. For home maintenance, preparing for the next season, or getting your house ready to sell, sealing your windows is a smart step.
Uses of Window Sealants 
Window sealants function as a joint or point of contact between two spaces. The resulting barrier is resistant to gas, air, and also liquid. There is no one best sealant. Different sealants are necessary since each material has a specific sealant recommended for it. Metal window frames require a different sealant from a wood window or a vinyl clad window. Always check the requirements for your window type with someone knowledgeable about windows.
Types of Sealants
There are several types of window sealants commonly in use:
Silicone Sealants: A silicone sealant is mainly for use on windows in the bathroom, kitchen, shower, and toilet areas. Because they are subject to moisture that can cause the metal or wood to expand and contrast, these windows need a sealant that can also expand and contract. Also good for bonding materials that are subjected to vibration. Available in white and translucent color, it fits into your décor seamlessly.

Multi-Purpose Sealants: When two dissimilar materials join, such as wood and vinyl, metal or PVC, a multi-purpose sealant forms a bond between the two. In areas where replacement windows are set into original window frames, a multi-purpose sealant may be necessary.

Acrylic Sealant: Suitable for the connection and the sealing of cracks on brick, plaster, concrete, PVC, and wood, acrylic sealant is paintable and can be plastered to match an existing surface.
These are the common types of window sealants and their applications. They are typically available in local building materials and DIY stores. If you are unsure about which material to use for your project, seek the advice of a window installation professional.